House Movers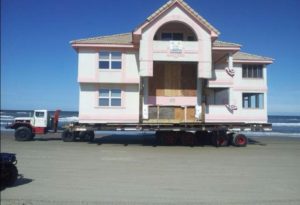 Are you asking, "Who are house movers near me?" Expert House Movers is a 4th Generation structural moving company and our good name and reputation is known nationwide. We can elevate your home or building, shore the foundation and move it from a few feet to thousands of miles away. Then set it down gently and level on a new foundation with a lifetime guarantee.
If you need your house lifted with the safest structure raising equipment used to move the Hatteras Lighthouse or the Newark airport terminal or even the house down the street, call us today!
 Get Your Free Quote: 409-750-3448
See More Homes Moved Here
House Moving Common Questions
How much does it cost to move a house?
How long does it take?
How long can I still remain in the home?
What do you need to know for the free quote?
Difference between moving or building new?
Do I get a new foundation with the move?
Why choose you?
Special Circumstance Questions
What if  house is very old and fragile?
Are you experienced in historical homes?
What if my neighbor's homes are very close?
What am I responsible for?
Do you get all required permits?
Can you really move my house through a city?
I just want to talk to the owner for something else.