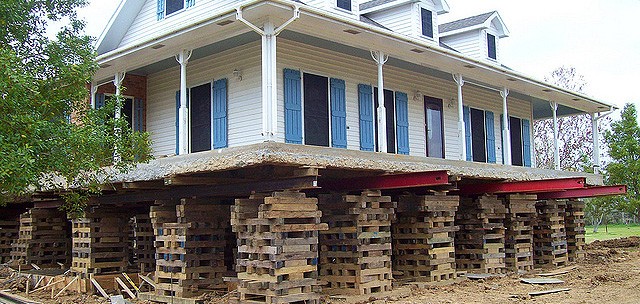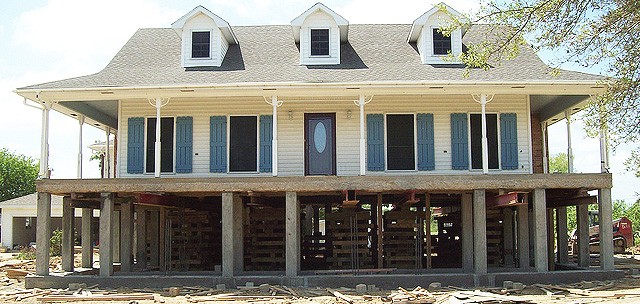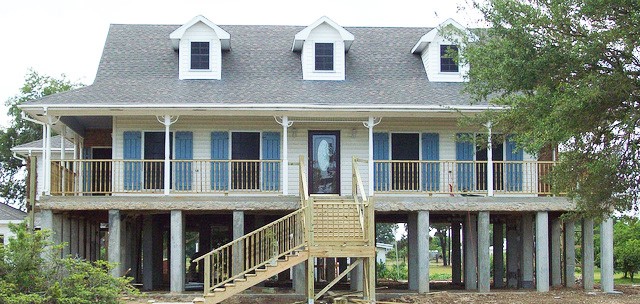 Pier and Beam Elevation
 Expert House Mover's service area is from Galveston, TX to Michigan, California to Maine or anywhere along the coastline in-between. Areas where your home should be raised on "stilts" to be safe from storm surges or floods. This type of home elevation is called pier and beam elevation. If you want to move your ground level house to the coast, then you should read more of this page. Recent hurricanes decimated homes with older foundations in Galveston, Louisiana, and along the Gulf Coast to Florida. Those who did not suffer major damage could still have problems that may not be as visible, but should be examined to prevent future damage.
Types of Pier and Beam foundations
A pier and Beam foundation can vary in materials and appearance. EHM can repair, replace or build a beautiful new foundation for you home giving you peace of mind for a lifetime and more. In the images here, you can see this home was a regular slab home raised as an example. These foundations do not always have to be poles to be sturdy. There is also a decorative option that more homeowners are moving toward.
Typical home elevation raises a house above the flood plain, but coastal homes are subject to harsh wind, high surges, and pressures most other houses don't endure. As a result, they need a different type of foundation to allow waves to pass through while being high enough not to get broadsided by high waves. These columns can be made of deeply driven wood posts or concrete piers.
Another type of Pier and Beam foundation can also be an 18″ raised wall as a crawlspace. It allows easier access for repairs but a risk is sagging or weaker floors. While it is more likely to get mold/fungi, it does resist termites.
Call us today to see what Expert House Movers can do for you.
What is Shoring Your House?
Shoring is a term used for bracing the home foundation for stability. In Texas for example, when raising a house it needs to be leveled perfectly and stationary from the irregular distribution of weight that might cause structural damage if it shifts. After shoring the home, it can be lifted safely and evenly for the pier & beam foundation to be built or repaired.
Expert House Movers is a 4th Generation structural moving company now based in Galveston, Texas but our good name and reputation is known nationwide. Get your house lifted with the safest structure raising equipment used to move the Hatteras Lighthouse, the Newark airport terminal, or even the house down the street. If you are curious how much it costs to raise your home, secure it better from high surge, or know more about Galveston pier and beam services, then call us today!
 Get Your Free Quote: 409-750-3448
See More Raised Homes Here