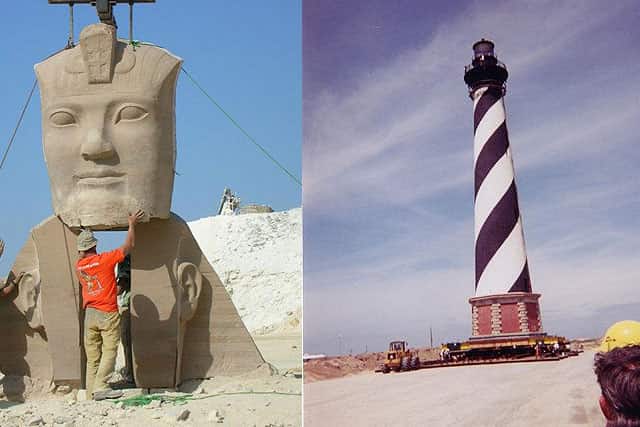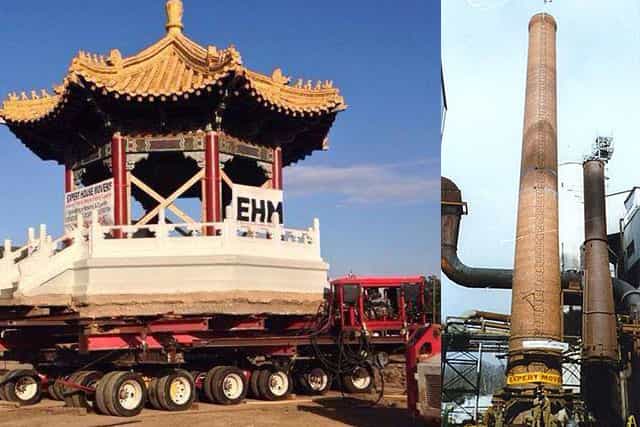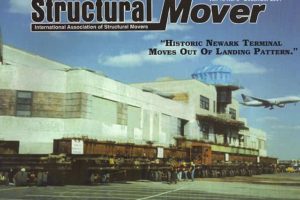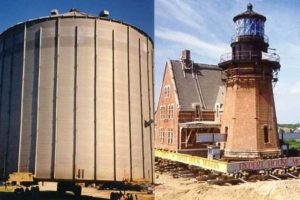 Structure Relocation
Moving a structure is slightly different from moving houses or buildings and the cost for such a move is not as much as you would think. This entails moving oddly shaped, uneven, unusually tall or long objects that don't include typically rectangular properties. Structure relocation services ranges from local farm silos to monoliths in Egypt, a giant gorilla to a 68ft long, 120 ton gun barrel from the USS Missouri and many things in-between. Not included in "buildings" are the lighthouses that are among the hardest moves possible. We have set world and national records with these projects.
Expert House Movers has moved all of the masonry lighthouses ever relocated in the United States. These include the Cape Hatteras, Block Island, and Sankaty Head Lighthouses.  The Hatteras Lighthouse is the tallest lighthouse in North America, and the project was deemed the "move of the Century" by the International Association of Structural Movers. We received the coveted OPAL award from the Society of Civil Engineers for this project.
Relocation projects have the potential to be highly complex. Effective coordination with local utility companies, structural elevation, proper permitting, coordination with municipal and interstate officials is necessary. While the process can be complicated, Expert House Movers has experience dating back to the early 1950s and will smoothly guide you through this process.
Save Money by Moving
Structural, house and building moving in Houston, Galveston, Louisiana, or anywhere in the US is usually more cost effective than rebuilding. Using the Unified Hydraulic Jacking system, we can lift the slab foundation up from any depth and transport it locally or around the world intact. Older wooden frame buildings on a pier and beam foundation like several stores on Galveston Island, TX can be moved safely if there was fear of a massive hurricane that would devastate the property. It could be moved inland and replaced on a new foundation or after repairing the old. Store owners along the coast have saved money and profit losses compared to waiting for FEMA or the insurance company to reimburse.
The cost of raising a building is not that much different than a house. Height and weight are not a problem as the cost is mostly determined by foundation square footage. This can also be a grain silo, statue, large ships, special movie prop structures, or whatever you need moved from one place to another. Just give us a call for your free quote!