Foundation repair costs
Foundation repair, costs per pier and beam for house levelling, or replacement will average between $700 to $1,200. This is depending on the diameter per pier, the depth needed, and quantity of piers needed. The local surveyor determines the requirement for your home.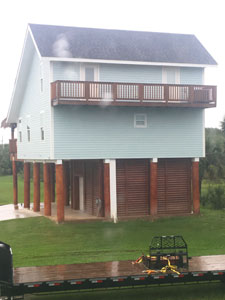 The cost for house leveling is not nearly as expensive as neglect that requires a whole new foundation. It only takes 2 to 5 days to have your home ready.  Our pier and beam foundation repair services for Galveston county homes will re-level your home to be like or better than new. Beach weather eats your pier and beam foundation. In the Galveston, Texas City, and Kemah areas, 30 year old homes suffer from settlement, compression, rotting, drooping, and sagging requiring house leveling. Maintaining the structural integrity of your most prized possession is like maintenance on your car.
This is the time for piling and stringer replacement and house leveling to get your home ready for Memorial Day and the Spring season. Call us today for a free estimate and we will come out to your home and give you an accurate price. We don't add hidden fees like other companies or add extra material just to bump up the price.
Foundation Repair: Services
We have been elevating and moving homes for over 4 generations and elevated thousands of homes, buildings, and structures. Please see our other pages for examples. Aside from levelling of Gulf Coast beach houses and slab foundation homes, some of our other turn-key foundation repair services include:
Levelling of beach house
Piling replacement
Carpentry work
New Builds and Repairs
Brickwork and Stone Inlay
Replace plumbing
Custom Elevators

Deck building and remodeling
Steps and Stair repair or construction
Flashing repair
Stringer replacement *
Reconnect electrical
Basement additions
* Stringers go under the floor joyce and lock into the notches to secure the house to piling. Wood runners are two 2x12s on each side of the piling.
Foundation Contractor: Service Area
Levelling a house in Houston, Meyerland, and down to the Galveston Bay areas (including Kemah, Texas City for a 100+ miles each way).
Service areas include:
Dickenson
Clear Lake
Freeport
Surfside
Seabrook

Alvin
Houston
Meyerland
Katy
All locations within 100 miles*
*Areas outside like San Antonio, Louisiana, Georgia, Florida are also included with travel expense for foundation repair.
Expert House Movers is house lifting company providing low house moving cost for over 50 years with a world-wide reputation for excellence in customer service and quality work. It's no wonder why several other companies copy our name for their advertising. We look forward to working with you and showing you why.